Why Choose MAA?
* At Missouri Auto Auction, we are independently owned and operated. We treasure the opportunity to greet each automotive dealer personally every Friday with a handshake.
* We enjoy the opportunity of getting to know your likes and dislikes, your wants and needs, and helping you experience your full buying/selling potential.
* We're situated in a central location.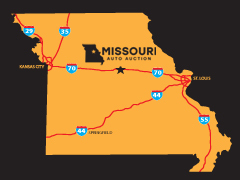 Columbia, Missouri
Quick Facts
5 Selling Lanes

400 - 500 Units Weekly

24 Hour Security

Inventory Management System

Full Reconditioning Facility

On Site Transportation

Simulcast Bidding

7 Day Post Sale Inspections
Hours of Operation
Office

Monday - Thursday: 8:30 am - 5:00 pm

Friday: 7:00 am - 5:00 pm

Gate

Monday - Friday: 7:00 am - 8:00 pm

Saturday: 8:00 am - 3:00 pm

Sunday: Closed
What People Say
Jason Fruend:
"Missouri Auto Auction is a great family owned auction that offers wonderful personal service and always a friendly smile, good morning, and thank you.There's always someone to answer your questions as a buyer or take care of your needs as a seller. It has great people and is a great operation from top to bottom. Thank you Missouri Auto Auction for many years of great service and for all of the friendships."
Larry Brennan:
"I've been coming to MAA for years. Everyone is so friendly and goes out of their way to help you. Justin Brown will go the extra mile to do what it takes to make me a satisfied customer."