Announcements
Awards:
Missouri Auto Auction Leads Nation for United Auto Credit 2 years in a row!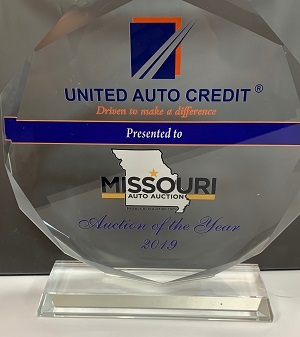 United Auto Credit has named Missouri Auto Auction its 2019 Auction of the Year, marking the facility as its top auction in the country for the second year running. United Auto Credit utilizes auction locations throughout the United States and employs a multi-faceted scorecard to rate performance. Scott Mousaw, Director of Loss Prevention and Remarketing commented, "Missouri Auto Auction is a great partner for United Auto Credit. The service and most importantly, the results have kept them in the top spot for the last two years."
Cody Boswell, Owner at Missouri Auto Auction notes that the auction has been selling vehicles for United Auto Credit since 2010, featuring its vehicles at monthly sale events. We are thankful for our long standing relationship with United Auto Credit and are thrilled to be at the top of the rankings again. Concludes Boswell: "When we received the 2018 award last year, my staff and I pledged to continue making 2019 another award-winning year with United Auto Credit. I'm so pleased to report that we met that commitment with flying colors and are celebrating as the top auction for United Auto Credit in the country for the second year in a row."
Missouri Auto Auction holds a consignment sale every Friday at 9:00 AM featuring dealer and commercial consignment. Now in its 20th year of business, the auction has been rapidly increasing online conversions selling 1 out of 5 vehicles to online- buyers across the globe. We are committed to providing a best in class customer experience only captured while transacting business at an independent auto auction.