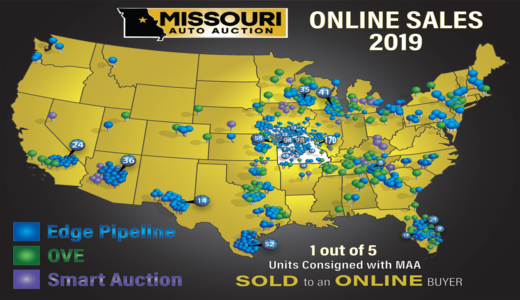 Featured Vehicles
There are no featured vehicles at this time.
Announcements
Missouri Auto Auction Leads Nation for United Auto Credit
United Auto Credit has named Missouri Auto Auction its 2018 Auction of the Year, marking the facility as its top auction in the country. United Auto Credit utilizes approximately 32 auction locations throughout the United States, and employs a multi-faceted scorecard to rate performance.
"Missouri Auto Auction has distinguished itself as the leading auction for us in the nation by consistently performing at the highest levels, in sales, service and operational excellence," said Scott Mousaw, Director of Loss Mitigation for United Auto Credit. He notes that this year's award follows on the heels of Missouri Auto Auction's designation in 2017 as a Regional Auction of the Year for the remarketer.
"The auction's dedication to service shows in every step of the auction process, and by every member of the auction team who has responsibility for our vehicles," said Mousaw. "Missouri Auto Auction has developed a robust market for United Auto Credit, and their concerted efforts on our behalf are evident in outstanding retentions and conversions throughout the year."
Mousaw will travel to Missouri Auto Auction in March to present the Auction of the Year Award to the auction's general manager, Justin Brown, and the auction team.
"We appreciate our long-standing partnership with United Auto Credit, and are thrilled to be named the Auction of the Year," said Brown. He notes that the auction has been selling vehicles for United Auto Credit since 2010, featuring its vehicles at monthly sale events. "This award is the result of the efforts of our entire staff, every member of the team who touches the vehicles and coordinates the sale. From check-in and recon, to our fleet/lease coordinators, to the sales team who has worked so diligently to draw buyers from throughout the state for United Auto Credit sale events, our people have done a great job making Missouri Auto Auction a national leader."
Concludes Brown: "My staff and I are honored to receive this year's Auction of the Year Award, and are committed to continuing making 2019 another award-winning year with United Auto Credit."